Page Sanctuary COGIC Women's Conference, August 25-28, 2010
Theme:
"Women: God's Precious Jewels"
August 28th Key Note Speaker:
Evangelist Louise Patterson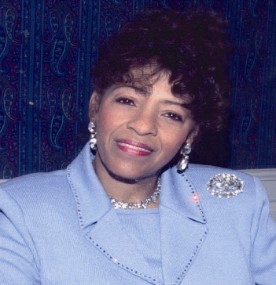 Evangelist Louise D. Patterson is the wife of the late Bishop Gilbert Earl Patterson, former Presiding Bishop of the Churches of God in Christ, Inc. and Pastor of Temple of Deliverance Church of God in Christ. She is a dedicated member and a licensed Evangelist within the COGIC denomination. Her commitment to God's work on earth and expanding her husband's ministry has gained her countless awards and national recognition among various ecumenical and public organizations and ministries.
Evangelist Patterson has been, and is, actively involved in a number of church ministries. She played a vital role in the Bishop's Wives Circle. For many years, Evangelist Patterson taught Sunday School at the church her husband founded, Temple of Deliverance Church of God In Christ (Memphis, TN). The International Sunday School Department named its annual pageant in her honor. She was instrumental in redesigning the structure and materials for the new member's class, which is currently being used among other religious congregations. Her other contributions and ministry involvement include: organizing the volunteer department for her church, which grew from 80 to 800 in the span of five years; organizing the church's clothes closet for the needy; launching an annual senior citizen's dinner; serving as an advisor to many pastor wives, and encouraging others and directing souls to Christ.
Evangelist Patterson can be seen every Sunday on various Christian networks as well as non-Christian-focused television stations introducing her husband's ministry to thousands of viewers of the Bountiful Blessings telecast. Evangelist Patterson works tirelessly to continue her husband's legacy.
Evangelist Patterson believes that all things should be done to the glory of God (I Cor. 10:31) and her life is a vivid example of this belief. She is a symbol of strength to women everywhere.
Banquet Seating
is Limited
Please print the registration form
and purchase your ticket today
Wednesday, August 25
Seminar: 6:30 p.m.-7:30 p.m. — "My Realtionship"
Night Service: 7:30 p.m.
Speaker: District Missionary Lynn Powell, Abundant Life COGIC, Oklahoma City
Thursday, August 26
Seminar: 6:30 p.m.-7:30 p.m. — "My Emotions"
Night Service: 7:30 p.m.
Speaker: District Missionary Mary F. Graham, Word Life COGIC, Duncan, Oklahoma
Friday, August 27
Seminar: 6:30 p.m.-7:30 p.m. — "My Goals"
Night Service: 7:30 p.m.
Speaker: Evangelist Sandra McDuff, Kingdom Harvest COGIC, Dallas, Texas
Page Sanctuary Church of God in Christ ~~7205 N. Kelley~~Oklahoma City, OK 73111
405-840-3324
E-mail: contactus@pagesanctuarycogic.org
All rights reserved.
©2010